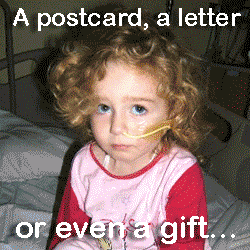 So my new craft room is coming along beautifully! I've almost got it to a workable state and will be able to use it as my craft office properly again very shortly! So to celebrate I got my penpal supplies out and...promptly realised that I'm actually up to date with all my correspondance! Well that's great, but I really wanted to write, so I took to the trusty google and searched for new penpals. Which is how I found a site called
Post Pals
which broke my heart. The site contains a list of very sick children and a mailing address for each one (not a home address) with the wonderful idea of sending them little pieces of happy mail to coax a smile from them. It's a beautiful thought and I strongly urge anyone reading this blog to get involved. Just a postcard with a silly joke. Less than a pound. Whenever you can.
Personally I plan on sending every single child on that site a little something. It could be just a hand made card, or a silly drawing with a letter, but I aim to try and give each child a present too. Nowe my funds are really low at the moment, loosing my job and moving house, but I've already sent three children a little something.
Ella is a beautiful little girl who suffers from CRF, but her smile lights up the room. I've never met her, just click her name and look at her, she's beautiful! She's so poorly.
She was the first name I clicked on so her gift is just a card and a drawing, I hadn't really got the swing of things yet, but her envelope gave me the confidence to make the next ones bigger, so I really want to send her something else a little later on.
Her profile states that she loves pink, cream and Frozen, so I made her a 3D card featuring pink and cream. The card actually stands about an inch thick at the kitties face. Then I decorated the back of the envelope with "Elsa" who I apparently cannot draw! So I put Ellas name next to her in blue glitter and sealed the whole thing with snowflake deco tape.
Poppy has just undergone FIVE organ transplants! Can you imagine? She's not even ten! I can't even imagine the life that sweet little girl has had, or the difficulty and fear her family has been through. She's currently in a HDU in London...about 250 miles from her home and her little sister Coral. I'd be so scared but she sounds so brave and strong. I remember my sister being in hospital when I was a child, it's a mental scar that's never healed and has fueled my phobia of the places ever since. My sister had an Astma attack and the hospital was in the same city, she was home inside a week. Poppy had her transplants a month ago and is still there. I needed to make both girls a present, something soft, something that could be a sister thing. I settled on these knittens. They're practically identical, but the top is a varigated yarn and has a mottle to it. One bear seems to have slightly murkey polka dots and the other has random lighter flashes. The important thing is, they're soft, they're small and they have a snap fastener on one paw so when you put them together they hold paws.
Poppy is a huge fan of postman Pat. and the colour pink. I wanted her card to feature both things, but as anyone who has ever watched Postman Pat knows, he's predominantly blue. I can't remember much of Postman Pat, I haven't watched it in years, but I vaguely remember him liking tea and cake... I may have made that up, but in my head he does, so I have some pretty teapot shaped, blue cards featuring pink roses. I thought they'd tie my lovely waving cartoon in with the more girly bear quite nicely. So here's Poppys package.
Coral likes sparklie things, her favourite colour is purple and she loves girley things and Disney. Sadly, my cardmaking supply cupboard is really low on childrens items. I need to go shopping. So this is what I came up with for her card. The lady looks like a girly princess, the entire thing is different shades of purple and I've added glitter to the hair and dress, not to mention writing her name in glitter! Hopefully she'll love it.